Diese Veranstaltung hat bereits stattgefunden.
Post-War Justice in Liberated Europe: Greece and Austria
Mittwoch, 5. April 2017, 19:00

-

21:00

kostenlos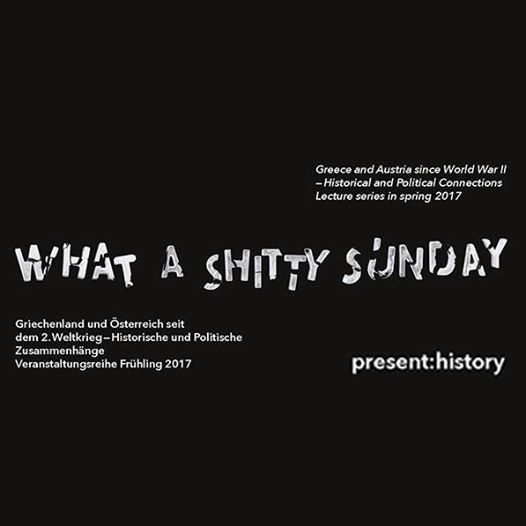 Following the military defeat of National Socialist Greater Germany the Greek and Austrian state start efforts to hold accountable Nazi perpetrators and collaborators before the courts. However, in both countries the legal persecution of Nazi-crimes is soon suspended in favor of a reintegration of former perpetrators into society and state. The two speakers will give an input on post-war justice in Greece and Austria and the reasons for this development to later discuss about similarities and differences in the history of both countries.
Winfried Garscha (DÖW – Documentation Centre of the Austrian Resistance / Research Agency for Post-War Justice) and Dimitris Kousouris (Institut für Byzantinistik und Neogräzistik, University of Vienna)
Language: English
in cooperation with the Reseach Agency for Post-War Justice
http://nachkriegsjustiz.at/english/index.php
*********************
This lecture is part of our series:
"What a Shitty Sunday"
Greece and Austria since World War II
more information: https://present-history.at/aktivitaten/veranstaltungsreihe-what-a-shitty-sunday
*********************
Idea and Background:
One Sunday in December 1944 a demonstration for the liberation of Nazi occupation in Athens is attacked by the British Army. This incident stands symbolically for a historical turning point: In Greece the political conflicts between the antifascist resistance movement against a coalition of conservative groups and former Nazi-collaborators lead to a bloody civil war in the following years. On a global level this incident marks the disintegration of the antifascist alliance of the Allies and the beginning of polarized political divisions during the Cold War.
This Sunday the spanish communist Jorge Semprún was held in the Nazi-concentration camp, Buchenwald. He describes this day in his autobiographic novel Quel beau dimanche! – What a Beautiful Sunday! (1980) and also connects it to memories of different places and times – the book tells the story of the European communist movement in the 20th century. The events in Greece on this winter sunday are also discussed by the prisoners in Buchenwald – one comrade comments: "What a Shitty Sunday!"
The title of our lecture series is inspired by this book, it illustrates the transnational, european dimension of the Second World War – Communists from different countries discuss about Greek politics in a Nazi-concentration camp. Dominant historical narratives – in contrast – tell history from a solely national perspective. In the analysis of National Socialism in Austria the historical connections to Greece and the 'Balkans' are excluded. We aim to critically challenge this notion and shed light on repressed or forgotten aspects of the Second World War as well as discuss about events in the following decades.